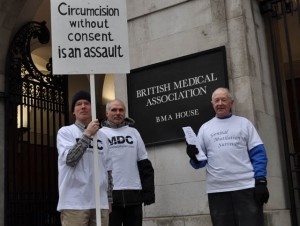 Men Do Complain held a vigil on Wednesday 22nd of February outside the  B.M.A. Tavistock Square, London WC1H 9JP. We got there at 08:30 and stayed until the rain, cold and wind overcame us. The reason for the vigil was that the B.M.A. were discussing ethics and once again the non-therapeutic cutting of boy's genitals was not on the agenda. The vigil went very  well and the public really are on our side.
Several  circumcised men approached us and quite openly said that they were glad someone was taking a stand. One surprise was the number of friendly car hoots and we didn't even have a sign saying hoot if you agree.
A lot of doctors on their way into the meeting made us feel very welcome. One quote was "You are so right may I take a couple of leaflets for my students?" We of course obliged.
A paediatric surgeon made it clear he was angry with his colleagues for continuing to circumcise children who have no need of such treatment and cannot give informed consent.
A big thank you to all those who turned out especially to our two photographers and to those who were coming in the afternoon but were prevented by the weather.