MDC took to the pedestrianised  centre of Cambridge to state our case against the non-therapeutic genital modification of children. Our message fell on receptive ears. We have now collected over ninety signatures, distributed between fifty and a hundred leaflets and presented our case to passers by who stopped to talk. We met an intact Jewish man whose parents a generation ago had abandoned circumcision, needless to say if he has sons there will be a bloodless naming ceremony, Brit Shalom, rather than a Bronze Age blood rite.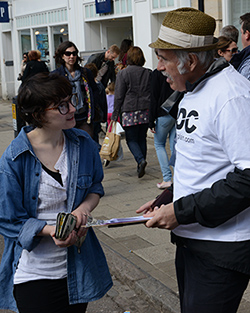 A Humanist approached us and said he would download the petition form and start collecting signatures from among the group of Humanists to which he belongs. A Sociologist asked about involvement in the movement with a view to doing some work on the subject. We gladly provided information. Many of our conversations were with people who were quite shocked to find out about the current situation in the U.K. regarding medical ethics, the inherent unfairness of the differing treatment of children simply because of gender and the unnecessary operations on children with atypical genitals.
Men Do Complain will be visiting cities and towns around the U.K. in the next few months so if you would like to get involved get in touch with us and we'll do our best to pay a visit to your area.