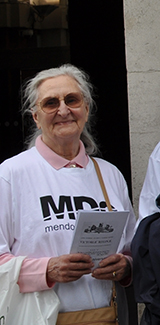 Men Do Complain is supported by women and we are grateful to all who see that children's rights to autonomy and freedom of religion should be equal for all regardless of gender, race or parental beliefs.
Iris Fudge one of MDC's female supporters has attended many of our demonstrations; in the picture on the left she is at our "Happy anniversary" protest in August 2011.
Iris is consistently polite, forceful and informative in her interactions with the public.
Iris is interviewed by James Loewen. Click on the photo to watch the interview.