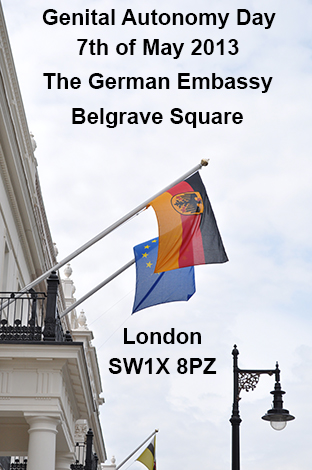 Join Men Do Complain for a vigil outside the German Embassy to mark the anniversary of the Cologne Ruling concerning the circumcision of a small boy. The Court in Cologne decided that;
"There was no consent by the child, who was four years old at the time, and since the child was not old enough to understand the situation, there was no question of such consent being given. There was consent by the parents, but this was not capable of justifying the commission of the elements of bodily harm."
Sadly the cutting of children's genitals continues despite this enlightened ruling.
We will be standing from 10:00 to 16:00. The address is 23 Belgrave Square, London SW1X 8PZ.
The message is "Children's rights not parents' rites". T-shirts and placards will be available on the day. There will also be an opportunity to engage the public and encourage them to sign our petition for the law that protects females from genital cutting to be made gender neutral.