I am a British born Muslim who was circumcised as a child and I believe I was about 8 years old when it happened although I cannot be sure of the exact age. I remember going to the hospital with my father and elder brother and being given an injection in my buttocks and waking up to find ice cream on the side table.
I only began researching circumcision after a hunch around the age of 17 when studying for my A-levels at college. I came across Mothers against Circumcision and then found NORM-UK and realised I was not alone in my thoughts.
I forgot about circumcision for many years and it was not until my late twenties and having found myself unemployed with lots of free time that I began researching this issue. Soon enough I came across Intact America and Doctors Opposing Circumcision and many Facebook pages as well as YouTube videos. I then discovered that the skin tag on my penis was a result of my circumcision and that this was very much highlighted as one of the harmful complications of circumcision on the website Circumstitions.
I then began printing Intact America factsheets and sending text messages to friends. I began speaking to fathers and anyone who was expecting a baby boy and making visits to see the fathers, funding much of the work from my own pocket. I made visits to a couple of my siblings who were expected to circumcise their boys but sadly their circumcisions went ahead without me knowing and after I had given them the factsheets. I now do a lot of work online targeting parents and keeping a tab locally on who is having children and boys in particular.
On 7th September 2014 I joined the Bloodstained men at a demo outside the Gherkin and met Richard Duncker and Patrick Smyth for the first time although I had had online conversations with Richard previously.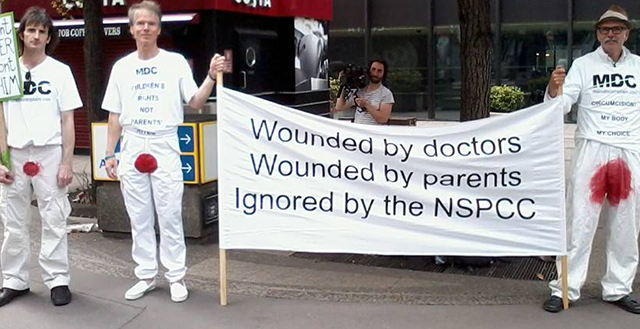 My concerns are about America as well as globally and being here in the UK my focus is on the Muslim/Jewish community. My work continues and I will do as much as I can to educate and stop parents from circumcising their baby boys and I truly believe circumcision needs to be abolished.