Men are coerced by society to keep silent if they feel damaged by circumcision. A man complaining about what is essentially a sexual assault will be greeted with statements like "Oh you've just got a problem" or "You've got a bee in your bonnet". Almost never will they be greeted with sympathy or any understanding. Watson's book does an enormous amount to break the silence and to encourage a compassionate view of men who have had an unnecessary procedure forced on them.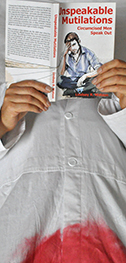 Watson's introduction to the book is a neat summary of the well documented harms caused by male circumcision. The papers published by various academics and scientists working in the fields covered by human biology have all concluded that the foreskin which is removed by the act of circumcision is a functional and specialised component of the male anatomy. Academic papers can be a challenge to digest, Watson's introduction is easy to comprehend and gives excellent references if the reader wants to study the subject of physical harm further.
The heart of the book is the light it shines onto the psychological damage caused by non-therapeutic male circumcision. Watson examines what little evidence there is in the the academic sphere and goes on to provide the stories of 50 men, from a wide range of cultures and ages, who tell us about their journeys from the discovery of what has been done to them, to the harm it has caused, and their reaction to that harm. Often men who have taken this path arrive at a positive or at least optimistic place.
What can no longer be in doubt, thanks to Watson's book and the brave men who tell their stories, is that some men do suffer a significant amount of damage as a result of an anachronistic and inappropriate medical practice. Some men may claim to be unharmed and even be happy with their circumcision but the question lingers about how comfortable you are knowing that a large number of men do suffer in silence from the misguided parenting and the unnecessary medical treatment they have received. Surely the prudent course of action is to let the child mature and then make his own decision.