Can you spot the connection between these items?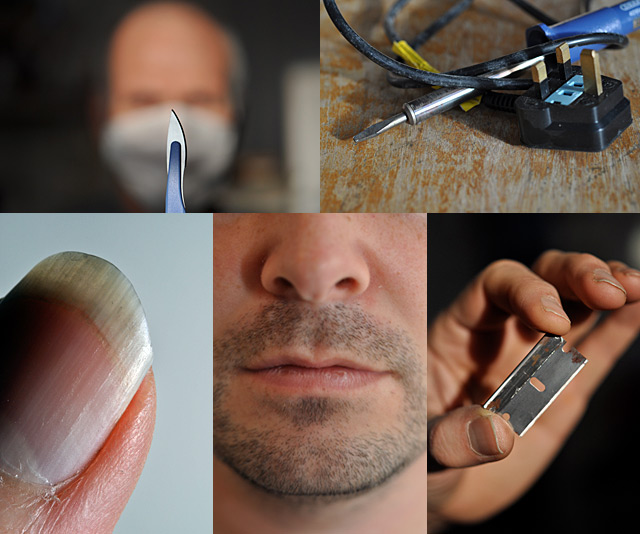 They have all been used in the cutting of boy's genitals in the U.K.
In a previous post I stated that I did not like to use the word circumcision because it gives the impression of something normal, I hope this post will show you that in the U.K. today the word circumcision is used to conceal some gruesome acts done to little boys.
The Scalpel.
Obvious — probably what you would expect to be used, along with other surgical instruments some of which look like the equipment of a skilful torturer.
The Mouth.
The mouth is sometimes used in a ritual that surrounds circumcision. The circumciser sucks the blood from the baby's wounded penis. Not surprisingly this has lead to complications of infection, herpes, and the circumciser now often uses a glass tube and gauze to prevent the transfer of germs. Intriguingly this shows that a ritual, supposedly rigid, is variable and capable of change, perhaps another change should be the raising of the age of the circumcision so that the child can give or withhold his consent.
The Razor Blade.
A widely available circumcision implement, all you need is a couple of adults to restrain the victim and the blade. The number of backstreet circumcisions performed annually in the U.K. is unknown, but complications are regularly seen in the A&E departments of the NHS. Sometimes the incident is referred to the police but a prosecution "would not be in the public interest".
The Thumbnail.
In infancy the foreskin is fused to the glans (head) of the penis by a layer of special, epithelial, cells; the thumbnail, specially grown, is sometimes used to rip the foreskin from the head of the penis. This process is of course extremely painful.
The Soldering Iron.
The soldering iron has been used on at least one occasion to cauterize, that means sealing with a burn, the circumcision wound on a baby's penis. The mechanic who did this on a kitchen table was not charged or arrested because he had not impersonated a doctor.
That we should permit all this to be carried out on non-consenting children in the twenty first century seems extraordinary. We rightly consider the exploitation of children to gratify adult wishes as abuse and society treats such abuse very seriously. Turning a blind eye to the abuse I have outlined above is un-justifiable. The existing law and child protection agencies should act to protect boys from what can only be called genital mutilation.