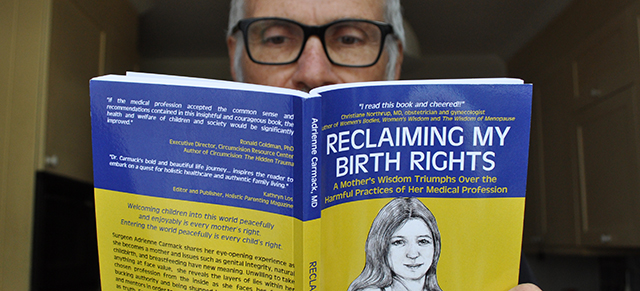 Reclaiming My Birth Rights by Adrienne Carmack MD
This is a book that is part autobiography and part thought provoking tour through medicine as it is practiced in America today. Doctor Carmack looks at pregnancy, childbirth, circumcision, unnecessary genital surgery and the early years of parenting with a knowledge of medicine and a compassionate, open mind. I would recommend this book to anyone considering having children. After three different birth experiences Doctor Carmack has a lot of valuable experience to pass on to prospective parents.
That medicine is a practice with it's own culture should come as no surprise. What is surprising is Carmack's exposition of the extent to which that medical culture as opposed to medical science influences the practice of medicine. Drug companies and the influence they exert on medicine are insightfully analysed and criticised. The overuse of antibiotics and the misuse of vaccinations is clearly explained. The companies that market baby formula obviously don't market breast feeding but the importance of breast feeding and co-sleeping with your children is quite rightly stressed, by Carmack, as being both natural and safe.
The encouraging aspect of this book is that there are people questioning cultural norms such as our over reliance on the medical profession, when a visit to an osteopath, physiotherapist or other alternative practitioner may be all that is necessary. The core of this book is how to achieve the balance between living and growing in society rather than just existing in society and letting life take it's toll on our health. Carmack views health as not just the absence of illness but the total wellbeing that is achievable with a balanced life.
My own journey towards a balanced life has been very different to the author's but it is progressing. As a person who has made the change from victim of male genital cutting to activist opposing non-therapeutic genital surgery I applaud Doctor Carmack's realisation that non-therapeutic genital surgery on males and intersex children is inherently harmful and her robust rejection of the practice is most welcome.